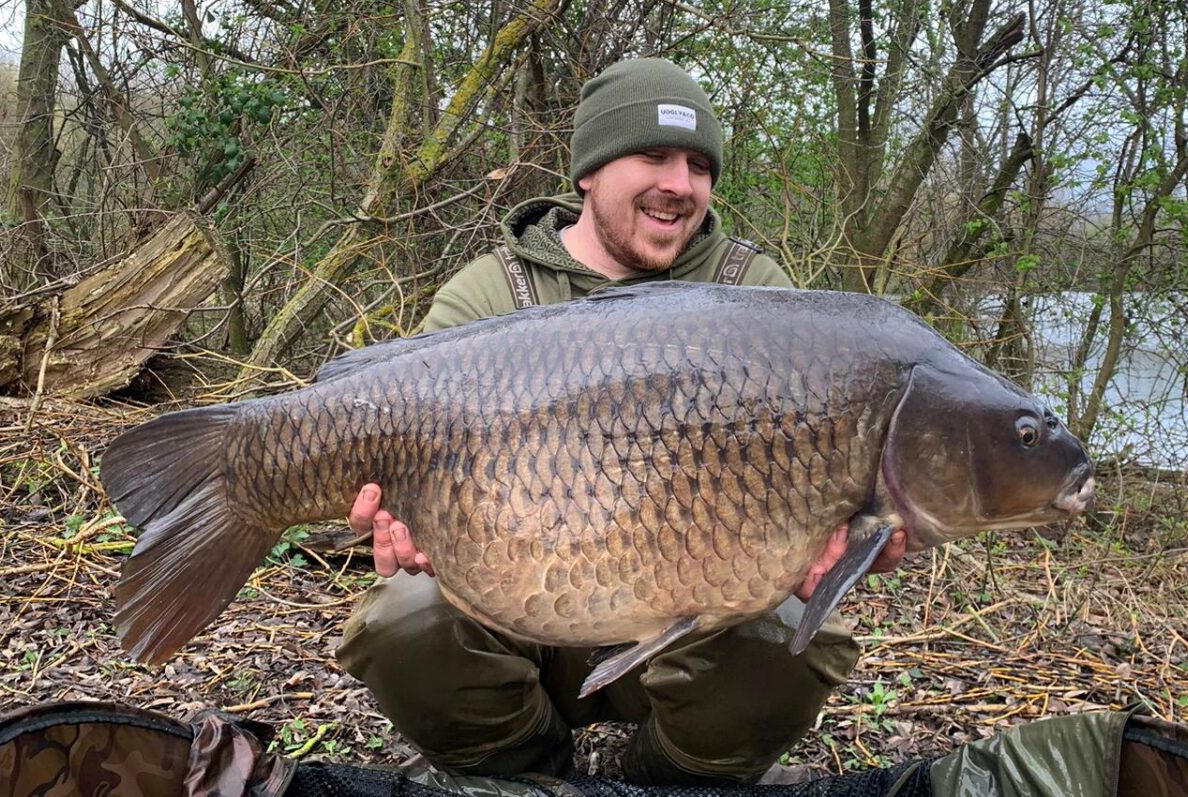 40LB+ SILVER COMMON ON FIRST STANWICK SESSION!
Posted: 4th April 2023
Author: Team DNA
Liam Sykes announced himself to Stanwick Lakes in some fashion, landing one of the most-wanted fish in Elsons on his first very visit to the Northamptonshire venue!
Weighing in at 40lb 2oz, the Silver Common was also a new personal best for the 31-year-old from Sheffield, who also had four other fish to 28lb during his 48-hour session.
Liam said: "I tried to book on to a lake last weekend but everywhere seemed to be booked up, so a trip further afield was needed.
"I had never fished Stanwick Fisheries before and Elsons Lake was the only lake you can book on, so that was my destination for this trip. Upon seeing fish close to the margins on my first lap around the lake, I settled in a swim which gave me as many options as possible whilst also being able to fish to the area where I spotted the fish. After three hours of finding fishable spots in the thick blanket weed, I put four or five Spombs over each rod, all on solid bags. It was a quiet first day and I was losing confidence getting into my bed.
"I was awoken at around 4am to the middle rod ripping off, but unfortunately the hook pulled a couple of rod-lengths from the bank and it looked like a good 30lb-plus mirror! I decided to rest the swim until first light so I could get the rod bang on the spot. With a new bag on the spot at around 7am, it only took half an hour for it to rip off again, this time producing one of the lake's big girls, a sought-after fish called the Silver Common and a new PB common of 40lb 2oz. I was buzzing. A quick call to the bailiff to come and check the fish over and take some pics and videos was in order.
"The same spot produced the rest of my bites, seven in total, with me landing five of them. I was over the moon to get so many bites from a tricky water like Elsons. What a way to start the year!"
All Liam's fished gave themselves up to 12mm PB pop-ups that he fished inside bags of Crayfish Mini Mix pellets, mixed in with some Bug and SLK crumb.