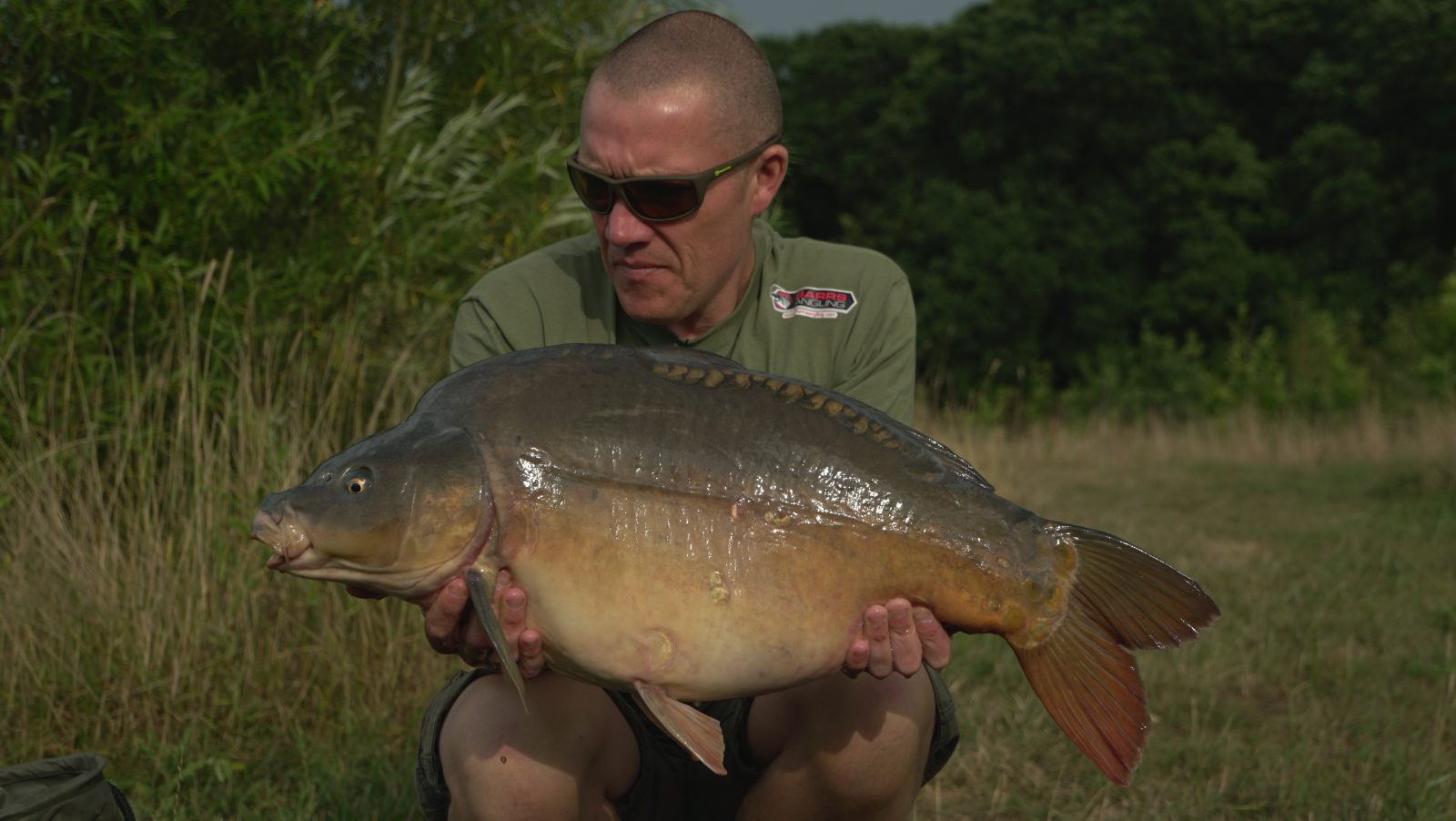 DNA OPEN-ACCESS ANALYSIS: COKING FARM
Posted: 1st September 2018
Author: Iain Macmillan
After a near on four-hour drive from Stoke to Dorset, I was greeted by more lakes than I could shake a stick at. There are so many lakes at Coking Farm with lovely carp in that it was hard to choose, but seeing as we wanted to try and get bites, we settled on Oak Lake right at the top of the complex.
I'd not taken any bait with me whatsoever, as the well-stocked, on-site tackle stocks DNA products, so Paul told me it would be nice for this OAS for us to turn up and use what they sell there, which I did. In the end, I opted for the Switch shelf-life boilies, Switch pellets, Switch wafters and some Switch Bait Soak to jazz up said wafters – game on!
I'd used the Switch before, both in France and up at Q Lake in York, so had no issues whatsoever with my choice, but I'd not used the shelfies as yet. Now, I've got no problem at all using shelfies; I think there's a massive misconception that a shelf-life bait is sub-standard to its frozen brethren, when in fact nothing could be further from the truth. At DNA the exact same ingredients and measures go into the shelf-life bait as the freezer range; the only real difference is the longer drying period and presence of a small quality of food-grade preservatives.
Oak Lake is about five acres in size, there are a few islands present, and if you want to fish it, there is a booking system in place. Oh, and it was roasting hot when we got there! Not ideal conditions.
We'd been given some pointers of what NOT to do as a guide. Firstly, the fish just weren't interested in floaters, and secondly, spodding kills it stone dead for a couple of days. As we only had 48 hours ahead of us, we weren't going to ignore this valuable advice from the bailiff team, so it would be a throwing stick or catapult approach, with predominantly boilies only – just how I like it really.
We started off fishing small bags of Switch pellets with the matching wafters in peg 31, but after a quick chat with a lovely guy called Dave down in peg 34, who'd actually had seven fish through the night from said swim and was leaving, we decided to jump in after him.
By now it was the middle of the afternoon and baking hot – not ideal for a bite – but we were confident of action later on as it cooled down a touch. In fairness, I think we'd massively underestimated the stock in Oak, as come 6pm the middle rod slammed over and we were away. It was a dogged affair from the off and no wonder, as a beautiful 24lb 4oz mirror was the culprit, a welcome way to kick off proceedings.
This was just what we needed and got us feeling very smug and confident after what Dave had caught through the night, but despite a good couple of kilos of 15mm Switch, all I had to show for my efforts come first light was hardly any sleep due to line bites. I definitely think they'd been in and somehow cleaned me out without picking up the hookbaits, but after more thought, I was beginning to think because the liners were at times so quick and so savage, the fish were running the short line way in front of my rigs and brushing against the heavy fluoro line that would be pinned into the debris on the lakebed. My thoughts were confirmed when I saw a small group of fish fizzing up about 40 yards out to my left, so a rod was soon fuzzed out there with a fresh PB wafter and a bag of the Switch pellets – it had to be worth a shot. I'm guessing half an hour later when I thought the chance had gone, the tip slammed round and we were in business again. As always, we were faffing about trying to turn the microphone and camera on, but we were soon in full-on filming mode as a lovely common dropped into the net.
The day proved to be a boring one, if I'm being honest. I think Mozza and I are so used to chasing the fish, or at least trying to create an opportunity for the shows, but as they simply would not take a floater, or it didn't look any more appealing in any other swim, we decided to stay put and bait for the evening. I guess there are going to be episodes where this will be the way and we just fish the one swim for the duration of our stay, but it was hard work to just sit there in the scorching heat.
I gave the fish a feast on the spots again, but after some chat with Mozza, I was sure the fish were coming from my left to right into the bank where there were no swims (my right-hand margin), so the plan was to do away with the right-hand rod flicked down to the bush to my right and hop it over the other two rods into open water, basically around the zone where I'd had the common from.
It was around 3pm now and had clouded over a touch. Then out of nowhere we had some cloud and a small rain shower, plus the wind suddenly turned and blew on into my right-hand bank. It looked bang on for a bite and literally within minutes I saw a few fish stick their heads out and a load of bubbling. A quick cast with a bag of pellets saw the rig land too well. I actually sent two fish flying off in rage down the other end of the lake as the cast must have been inches away from them in the shallow water – not ideal!
I thought I'd blown it, but within 15 minutes there were more signs of activity, before the right hand-rod absolutely flew off! Yet again more faffing about ensued, and before we could even start filming, the bloody hook came out. I was gutted! We knew we needed another bite from Oak to almost finish the show, and for it to fall off realty hurt; it hurt a lot, in fact, as this was the first fish we'd lost on the OAS shoots. Mozza laughed while I sulked, swore and generally had a proper diva fit.
After I'd picked my dummy up and after the commotion of the lost fish, I did indeed put the rod back out to the left around 40 yards out. There was an island in front and I was presuming most anglers headed straight for that, but after the liners and some careful consideration regarding which route I thought the fish were taking, we settled on open water and close in. I'm so glad we did, as just before first light that very rod flew off and a magnificent 24lb 6oz ghost mirror was the prize and more than made up for the previous evening's loss.
So, in the end we had four bites and three mega fish for this Oak shoot down at Coking Farm. I think we did well considering the weather, but 100% we wouldn't have caught hadn't we listened to the bailiff's advice, or at least I don't think we would have caught three. This proved invaluable, as I would have definitely spodded for sure, which possibly would have killed the swim, and as I've said, the other swims that weren't taken didn't look like they had a carp anywhere near them. The lost fish hurt me, but the lovely ghost mirror the following morning meant we left the complex happy; very happy, in fact. The fish responded really well to the shelf-life Switch and matching pellets, which for me just means another range of bait that I'm now 100% confident in taking anywhere.
I've found very quickly since joining DNA that it doesn't matter what bait range, flavour or make-up of that bait (frozen or shelf life), I'm catching on it first time of using it, and for me you simply can't put a price on confidence like that. Long may this roll of good fortune on the OAS shoots continue!