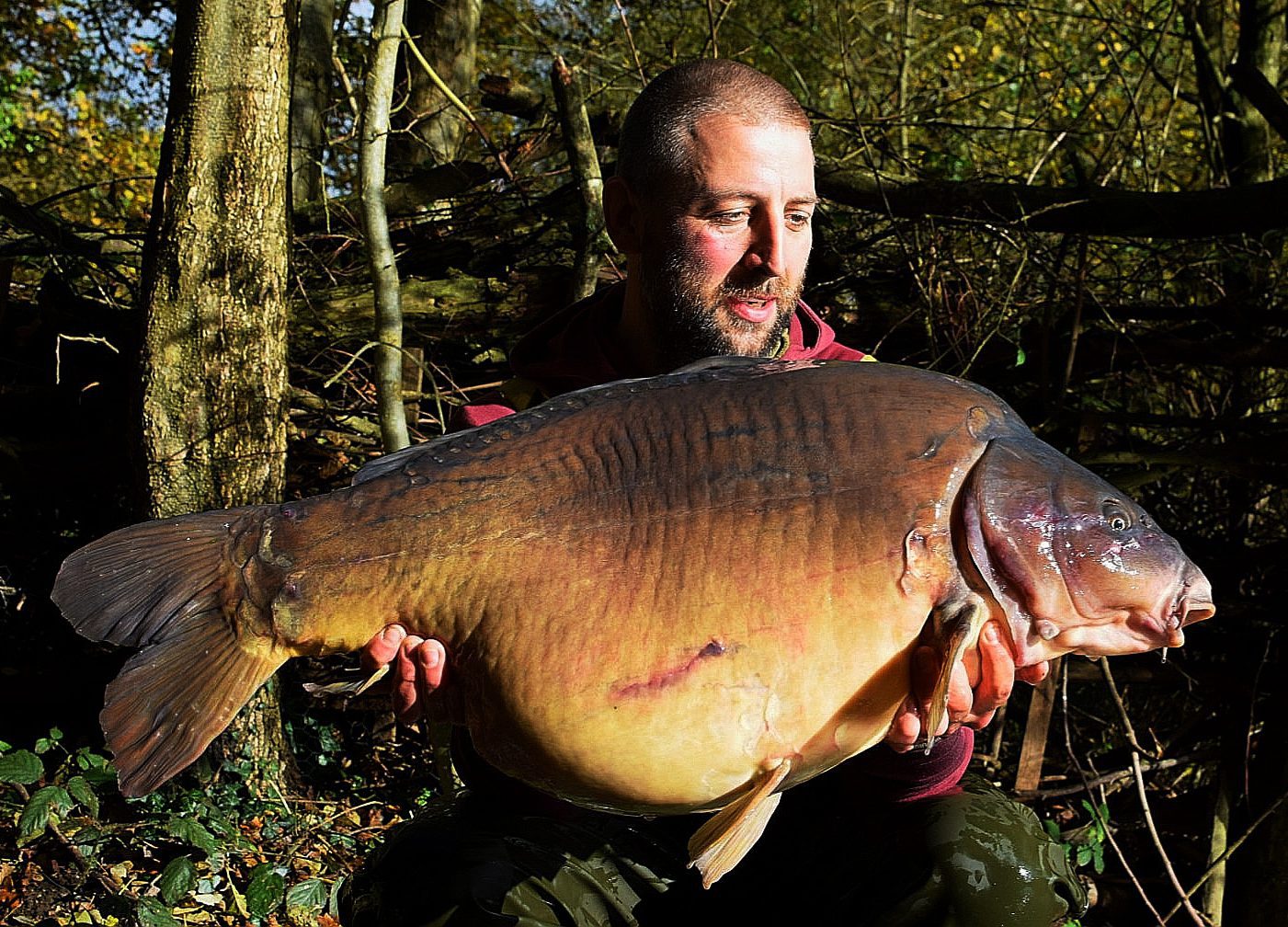 Dream result on Swan Valley!
Posted: 12th November 2020
Author: Team DNA
Ian Collins has realised a dream by following his early-season capture of a 42lb common with his first UK 40lb-plus mirror.
The 39-year-old from High Wycombe was fishing the famous Swan Valley in Yateley when the momentous capture happened.
Ian takes up the story: "After some early-season success in the shape of a 42lb common, I'd been chasing a 40lb mirror from my syndicate. The lake was fishing slow all summer, with the odd fish coming out each week. Having been furloughed again last week, I decided to get a few nights in before winter takes hold.
"After a quiet weekend, I went home for the night on Sunday and returned Monday lunchtime. A swim that had done a few fish in recent weeks was free, and with the forecasted wind pushing into the far-margin snags, it was a no-brainer to set up there. After a quiet first night, I lost a fish at 7.30 on Tuesday morning. I honestly thought the chance had gone, but I got the rig back out on the spot just in case.
"At 10.30, the bobbin pulled tight and I was into a slow, plodding fish which came across the lake quite easily. She put up a bit of a scrap close in and I could see what I thought was a good 30lb fish moving around under the water. When she broke the surface and rolled into the net, I still thought it was a decent thirty. It wasn't until I lifted her into my cradle and I saw her giant belly that I thought it might be mission complete.
"Sure enough, the scales ticked over to 42lb 2oz – it was a mirror known as Scale on Shoulder. What was only a dream back in April is now reality, UK 40lb-plus commons and mirrors to my name."
A Milky Malt wafter did the business for Ian, fished inside a solid bag of Crayfish Mini Mix, Secret 7 and Switch pellets. Over the top, he fed a mixture of 8mm Switch boilies and pellets, all soaked in Secret 7 Hydro Spod Syrup.