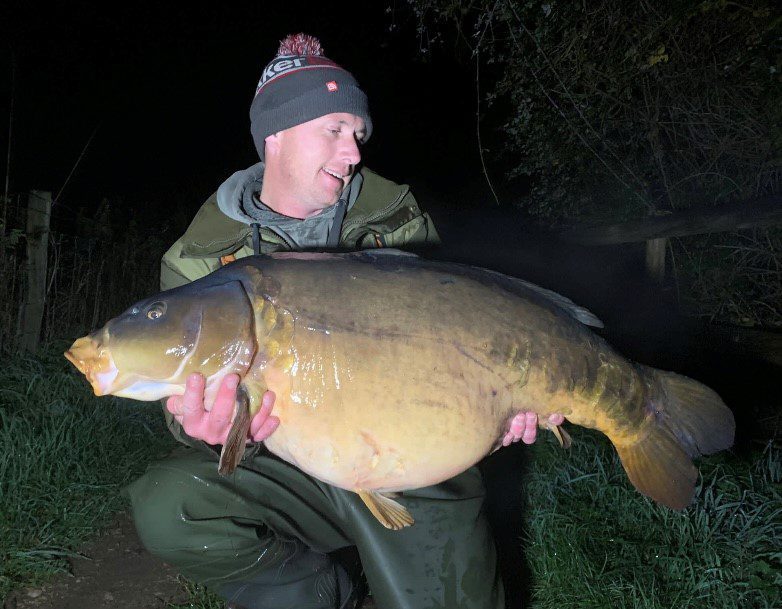 HEAVY BAITING YIELDS NEW PB AND KING OF THE POND!
Posted: 14th October 2022
Author: Team DNA
Baiting heavily at this time of year can be a deadly tactic, which is exactly what Andrew Sparrow chose to do during an overnighter on his low-stock syndicate, a tactic that clearly paid off with the king of the pond at a massive new PB of 45lb 12oz.
It turned out to be a red-letter session for Andrew, as not only did he bag the new PB, but he also tempted two other fish from his big bed of bait, both of them mirrors at 27lb and 33lb.
Andrew said: "I arrived at the lake around 4pm and, to my surprise, it was completely empty! I had a good look about, but after not seeing much, I settled in a swim I knew from previous sessions and introduced about 40 Spombs of 15mm Bug boilies, tigers and crushed peanuts, all heavily soaked in Bug Liquid Food.
"With the rods all sorted for the night, I got in my bag around 11pm. As I shut my eyes, the middle rod was away and, after a little while, I had a nice 27 mirror in the net, but sadly it was a repeat, so after a quick weigh and some treatment for the hook hold, I sent her back home.
"I didn't bother putting the rod back out and risk messing up my other rods, so got back in my bag around midnight, but again, just as I closed my eyes, the left-hand rod was away. This felt heavy from the start and after a very good battle she was finally in the net. It was the king of the pond and a new PB for me at 45lb 2oz! Buzzing my head off, I had to ring my mate, Gary, and get him out of bed for the pics. Top man! I also went on to land another fish at 33lb, but that was also a repeat, which is the trouble with fishing low-stock lakes, but what a truly amazing overnighter!"