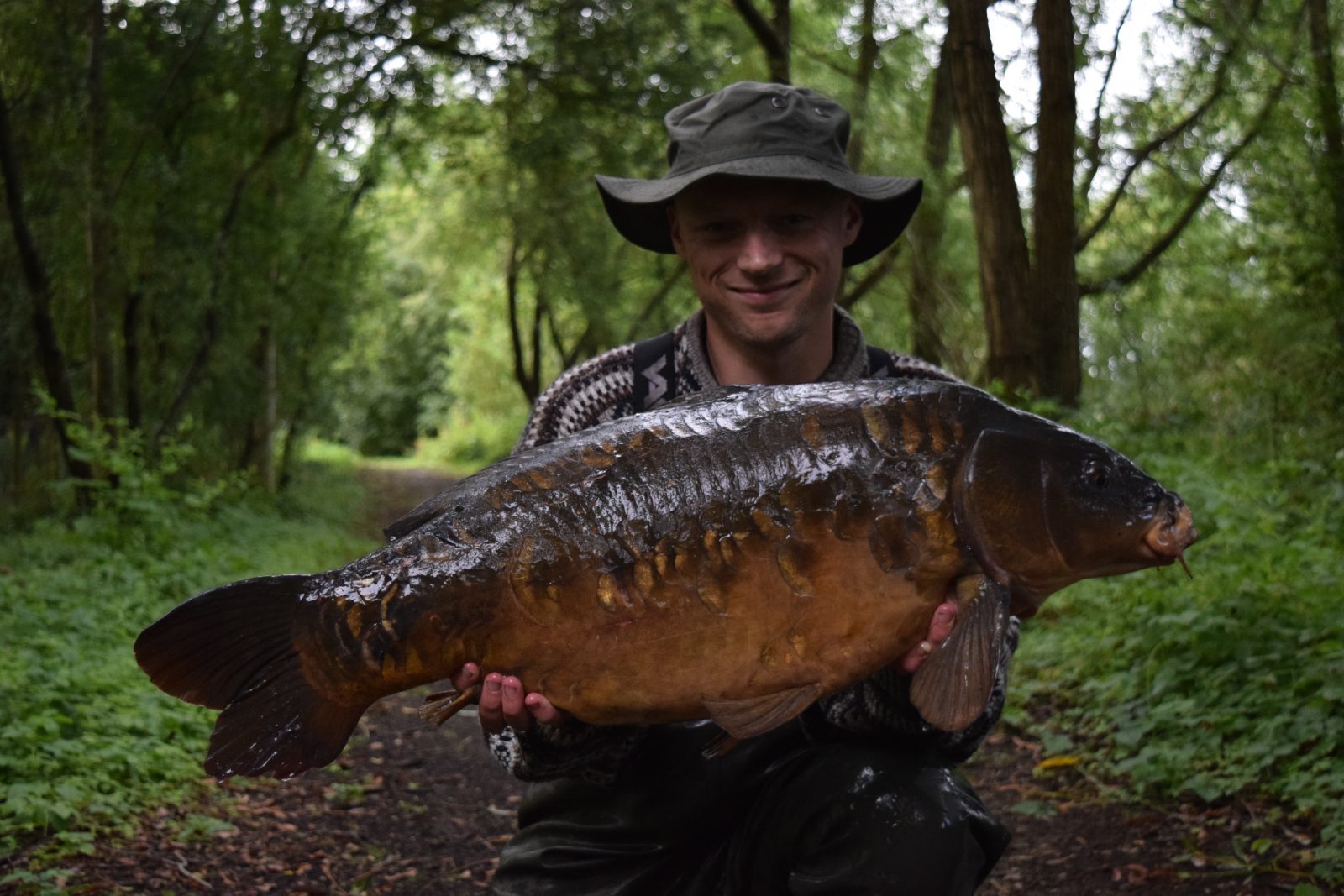 If It Ain't Broke, Don't Tinker
Posted: 18th January 2018
Author: Paul Monkman
DNA media and marketing man Paul Monkman speaks from experience when he tells us not to change a winning method.
The year 2017 will be remembered as a turbulent one when I come to look back on it in the future. A young family and a change of jobs aren't particularly conducive to a prolific fishing year, but despite saying that, there have been some memorable moments and a few successes along the way, successes I don't think would have happened had I not come to my senses in the spring.
I barely fished in the winter due to the birth of my son in late November, but still had to get my fix somehow and couldn't help myself from drifting off to sleep most nights by thinking about fishing and the possible edges I could try when I did finally get the chance to wet a line again.
One night I remember thinking I'd come up with something revolutionary, something new; a rig that could change the face of carp fishing forever, or so I thought in my sleep-deprived mind. The next day after work I ventured into the garage to try and tie what I'd dreamt up. To a degree, I succeeded, creating something that looked moderately like I had intended. I'd cracked it, I thought; this thing was going to rip waters apart!
By February the urge to escape the too-curling cries of my now-three-month-old son became too much. I had to get out, no matter what. With a new syndicate ticket at my disposal and the family in bed, I loaded up the car late one Tuesday night and set off for the lake for the quickest of quick overnighters before work the next morning. Was I concerned time was against me? Was I concerned it was February and the lake had barely done a fish all winter? Of course not, because I had my new fandango rig with me!
Five sessions later and I hadn't caught a thing. Was it the rig? Was it the time of year? Was I still getting my head around the lake? I don't know, but at the end of that session the rig that was going to change the face of carp fishing forever, or so I thought, was cast aside never to be used again – not since, anyway. My enthusiasm hadn't exactly waned by that point, but I was feeling frustrated with myself. Why didn't I just stick to my normal approach? It was bad angling.
With my head clear once again, I realised with the sort of angling I was doing – short overnighters – there was no room to experiment; I had to stick to what I knew and do it the best of my abilities. Of course, from then on things started to improve. Reverting back to a simple snowman presentation baited with a Switch Evo bottom bait and a 12mm pink Half Tones pop-up and fishing over 18mm Switch chops coated in matching Hydro Wheat, I began to pick up fish from the syndicate water as well as local day-tickets. It wasn't rocket science, but now I'd stopped tinkering, I was getting results.
Then around late July came our trip to Bramble Mere in the beautiful Cotswolds. Four of us had booked the exclusive-hire venue having seen pictures of the stunning scaly mirrors that reside within its blue-dyed waters. We weren't after anything big, as that's not what Bramble Mere is about; it was more about the social aspect and the chance to catch a scaly 'banger' or two.
I didn't arrive with any preconceived ideas, but I knew there wouldn't be any need to deviate from what I had been doing recently. The only doubt I had in my mind was the presence of crayfish in the lake and how they would affect my presentation. The next morning I was to find out, as when I reeled in for a recast I discovered all my Evo bottom baits had been taken and my Half Tones pop-ups had been whittled down to a shape little bigger than that of a boilie stop! Of course, I hadn't caught and felt like I'd wasted the first night.
I decided I had two options available to me. The first was to mesh the baits in tights, which seems to be common practice when fishing a water plagued by crayfish. The second option was to keep on doing exactly what I was doing, but instead introduce a lot more bait. That way, I thought, it would take a lot longer for the crays to find my hookbait, and maybe they'd move on once they had their fill.
In the end I went with the second option. I didn't like the idea of meshing and wanted to keep on doing what I was doing, as that's what had been working for me recently. So, at lunchtime I baited two spots with a bucket of chopped Switch boilies coated in Hydro Wheat and then topped up the spots with another 10 Spombs that evening.
As I dozed off to sleep that night, I wondered whether I'd made the right choice and whether I was fishing behind three bait-less rigs. I needn't have worried, though, as at 2am I received a blistering take on the middle rod. A nervy fight ensued, as I had to pump the fish through two weedbeds before catching a glimpse of it in the moonlight. I hopped into the shallow margins and stretched out with the net, scooping up a ball of weed and throwing my rod back up on the bank. I peered into the net to see a beautiful Bramble Mere mirror sitting amongst the weed. I had no idea of any of the names of the fish in the lake, but it had to be one of the A-team.
The next morning we weighed it up as 26lb and got some very carpy photos, as is customary for such a venue. I later discovered from one of the locals it was a fish known as the Weapon and was indeed one of the A-team, which was more than enough to make my trip.
Later that day I was forced into a swim change. Unbeknown to me, I'd set up next to a wasp nest, and when one found its way up my T-shirt and stung me, I decided I'd be best off moving a swim down, as the wasps were not in a friendly mood.
I could reach the same spot from the new swim, but in the end I decided against it and opted to fish off the edge of a huge weedbed straight out in front. I'd heard fish showing in around the weed the previous night and felt confident I'd be able to tempt one out. Chopping up another bucket of Switch boilies and coating the lot in the awesome Hydro Wheat, I began distributing the bait evenly over three different spots around the weed.
At approximately four o'clock the following morning, the rod fished off the left of the weed started to pull round slowly. I was fishing locked up because of the weed, so had jump out of bed as quickly as I could. As I bent into the fish, it came straight to the surface, having dumped the very loosely attached lead. I could make out large vortexes breaking the surface out amongst the gloom. Not giving the fish an inch, I was able to get the fish out of the weedbed within moments. Now all I had to do was get it with netting distance. There are few better feelings than standing next to a flat-calm lake at dawn while being attached to a fish. It's very rare you get the opportunity to appreciate the moment, though, as the onus is always about getting the fish in the net, and that's all I could think about, as I knew I was attached to another good fish. After a game of cat and mouse in the margins that must have lasted five minutes, I slid the net under a long, linear-scaled mirror. Grabbing the sling from atop the unhooking, I quickly transferred the fish and secured it safely in the margins. A text went out to tell everyone I had something that looked even bigger than my first fish, before firing up the stove for a celebratory brew.
Once the sun was high in the sky, the cavalry turned up in anticipation of seeing another of Bramble Mere's finest on the mat. I retrieved the fish from the margins and between us we slipped it on the scales, which gave a reading of 27lb 14oz. It was the Big Linear, a fish that normally weighs around the 30lb mark but was a little down in weight due to the time of year. Weight was irrelevant, although I was delighted to get amongst two of the better fish in the lake. Once the fish had been returned, I felt grateful I'd come to my senses and stopped tinkering earlier in the year and was now reaping the rewards.
The morale of the story of the story is, don't try to create something revolutionary when you've already got a method that works for you, particularly when you've barely slept for three months!