It had to happen!
Posted: 12th March 2021
Author: Team DNA
A two-and-a-half-year quest to catch a 30lb-plus common has ended with two in a single morning for Liam Searle!
Liam takes up the story: "With it looking like we were due some decent weather coming in, I had to make some space for a couple of morning sessions! I planned to fish the Wednesday and Thursday morning. It was an area I'd been concentrating all of my efforts on since it went to days only. This part of the lake took the brunt of a westerly wind, and although I'd been doing pretty well, I knew I had to be down there when it came in strong.
"I decided to bait fairly hard on the Monday. I always like to give the bait a couple of days to work its magic. The mix consisted of 18mm and 15mm Secret 7, mixed in with some 15mm Bug, along with tigers. The boilies were always put straight in a bucket when I arrived and left to soak in the matching Liquid Foods. Then before baiting I'd also add the matching Spod Syrups. This area had now seen a good 40kg-plus of boilies and the bites were now pretty consistent. They were loving it!
"On arrival on Wednesday morning, I fired out around 50-60 baits in the throwing stick. Casting out right on bite time isn't ideal, so I always like to put out bait first before deploying three 4oz leads to the spot. All my bites had been coming in a fairly short feeding spell in the morning, and it didn't take long for one rod to rip off, resulting in a low-double common. Not long after this I lost one, then around an hour later had another one similar in size to the first. Then, as normal, it all went quiet. I reeled in around 11am, but with the main weather front coming that night and the following morning, I decided to bait fairly heavily before heading off, introducing around three kilos of boilies and a few handfuls of tigers.
"On arrival the following morning, I had high hopes, as the weather was prime. It was absolutely hacking into that bay area of the lake, with waves crashing and soaking me through as I was getting the banksticks in! However, all three went out nicely.
"I didn't even have time to make a coffee before the first was away. This one came in nice and easy (blown in more or less) and went straight in the net. Happy days! I quickly popped the mid-double in the margins and got the rod back out on the spot.
"I then tried to make myself a coffee, but the rods had other ideas! No sooner had I sat back down than the same rod was away again. This one felt better from the off and stayed deep. It tried its best to get around a reed spit to my right, but steady pressure coaxed it back towards me nicely. After a bit of a go at the tip, I managed to get it into the net. This one was a mega, lovely coloured common and tipped the needle round to 27lb. I was made up!
"A good hour or so must have passed without any more action, but as I quickly stuck my head out to look at the rods, I noticed my middle swinger had dropped off! Thinking it was just the wind, I stepped down to check to see the line was tight, so I picked it up and bent into what was clearly a fish, one that felt fairly sizable, too. As I was slowly pumped it back, the right-hand rod melted off as well! My mate was still down, so he ran down to sort that one. He managed to get what was a mid-double in the net before I was even able to get mine halfway in. My fish took me on four or five mental runs where I just couldn't stop it, peeling line off the clutch. By now we had caught a glimpse of the tail and were both pretty sure on what fish it was, making it an even more nerve-racking 5-10 minutes. Eventually she tired and we got her bundled in the net at the first chance we had. There she was in all her glory, a long, wide-framed common by the name of Cut Tail at 34lb. I'd been fishing this local club lake hard for the past two and a half years and had got through a fair few of them by now, but what I set out for was a 30lb-plus common and I'd finally gone one.
"I got the fish retained safely and fired the rods back out. I nearly didn't bother, as I'd achieved my target, but thought, why not, as they were obviously loving the weather and the bait. I had another lad pop down to help with the pics of this one and we had just finished up when I received another bite! This one came back nice and easy and was another mid-double.
"With all rods set again, I sat back to soak it all up with a coffee after what was a hectic spell of fishing, but it didn't stop there! Another hour must have passed before I had another melting take. After a pretty straightforward battle, I slipped the net under my fifth fish of the morning! This was a very plump fish and had definitely been making the most of the bait I'd been introducing, taking the needle round to 25lb 4oz. I was over the moon! To achieve my target and back it up with a couple twenties was a great way to end!
"However, that wasn't the end it; in fact, it was just about to get a whole lot better and complete my most memorable session to date. With two rods left in the water, one of the remaining rods went into meltdown! Upon picking up the rod, I instantly knew it was special, taking me on a good run and staying deep with powerful lunges, but thanks to consistent, steady pressure, before long I had another beast of a common sitting in the bottom of my net! This one looked familiar, as it was a fish I'd had a couple of times in the past, but it looked huge compared to the last time! I wasn't wrong, as it was up by over 5lb, weighing in at 31lb 2oz. I couldn't believe after two and a half years of trying for a 30lb-plus common, I'd had two in a morning. That's fishing for you, I guess.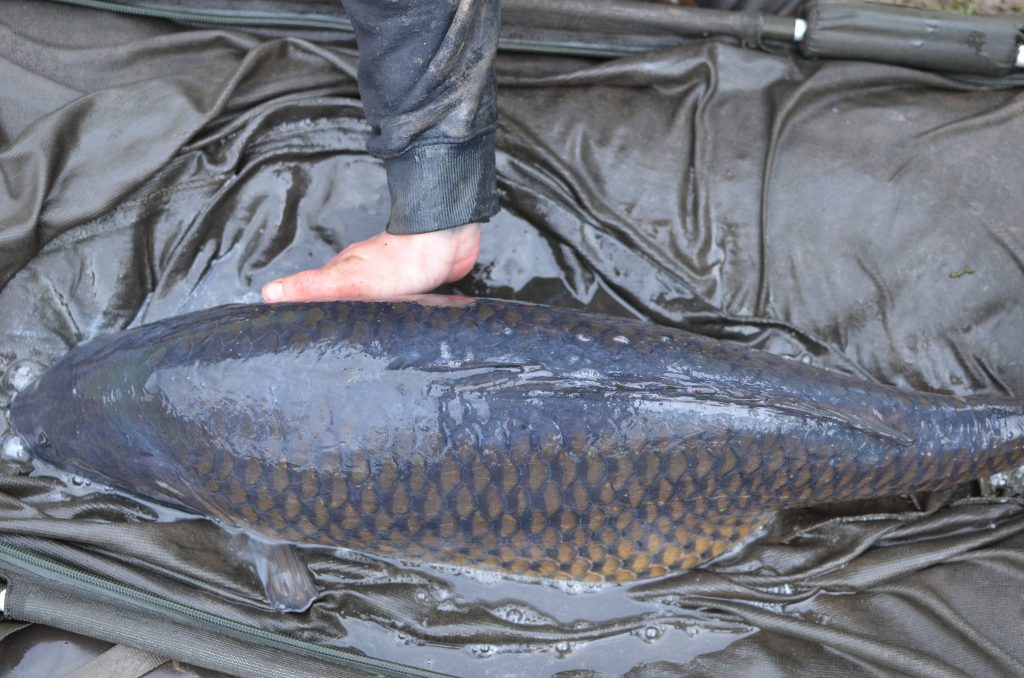 "I'd like to think with my knowledge gained on the place, it was just a case of being where I needed to be and keeping them fed, and that's exactly what I did. I knew it was going to be more tricky with it being days only, but I stuck at it and it all came good. With a new ticket and challenge starting the end of the month, I was going to be off anyway, but to achieve what I wanted means I can walk away happy! No doubt I'll be back one day to get the one or two that did evade me, but to finish up on 112 fish from the campaign was a good effort for sure, with lots of friends and memories made along the way."