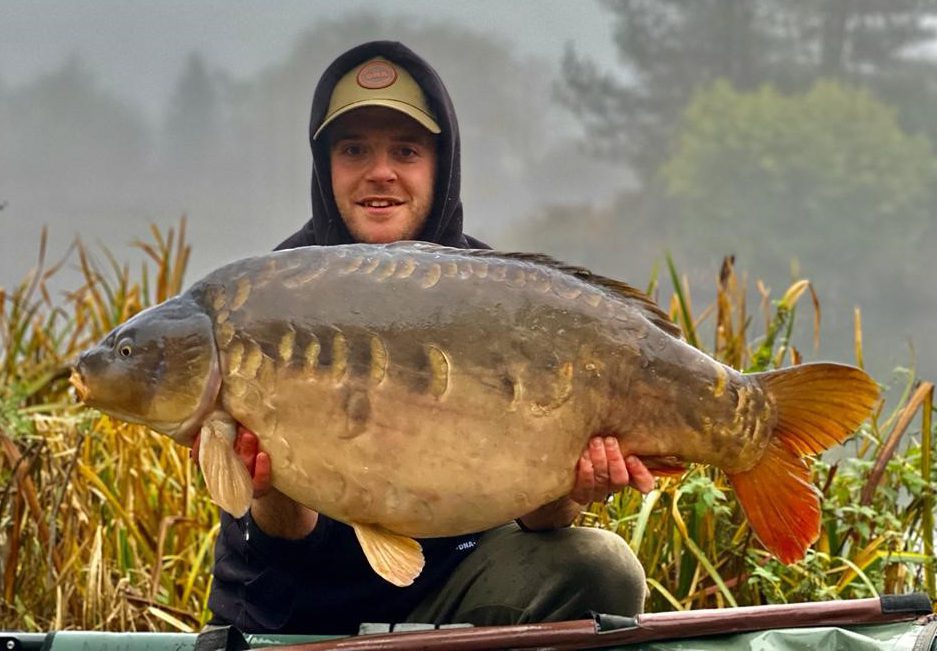 MILLBROOK RECORD FALLS AS PART OF 15-FISH HAUL!
Posted: 16th November 2021
Author: Team DNA
Reece Buttery has etched his named into
Millbrook fisheries
folklore, after recording one of the best catches the fishery has ever seen!
Over the course of a four-night stay, Reece set a new lake record of 39lb 15oz and smashed two personal bests as part of a 15-fish hit. His haul included five different 30-pounders, which were backed up by 10 twenties, only three of which were under 25lb.
Reece tells us the story of a fantastic session: "Coming out last in the draw, I found myself in peg 10, not exactly where I wanted to be, but after watching the water for a while, it was clear there were a number of fish held up in the weedbeds in front of me.
"I stuck a lead on and cast close to the weedbed, finding a lovely clear spot, so this was where I decided to present my rigs. I got some maggots prepped, covering them in Krill Powder. I decided the best way to fish for these carp would be little bags of maggots and create as little disturbance as possible. I opted for a D-rig using a trimmed-down PB pop-up tipped with eight maggots to create the perfect wafter.
"After getting the rigs in place, sitting back and watching the water, it wasn't long before the left-hand rod pulled tight and I was into my first fish of the session, a lovely 25lb mirror. The action continued throughout the day, with five fish banked in total, topped off by a low-thirty mirror.
"Not known for being much of a night water, it was time to sit back and hope for a bite at first light. As predicted, just as first light came round, the left-hand rod once more pulled up tight. After along battle in and out of the weed, the 'queen of the lake', a fish known as the Mug, popped up her head. Expecting this fish to be around her top weight, I couldn't wait to get her on the scales. Calling two lads to help with snaps and confirm the weight, she spun the scales to a new lake record and a new personal best for me at 39lb 15oz!"
The action wasn't finished there either, as Reece would go on to complete one of the best-ever catches ever recorded at Millbrook!
Reece continued: "After slipping the Mug back, there was no time to wait; I had to get the rods back on the spots. The regular action continued that day, with three more fish to 27lb-plus banked, and a further three to mid-twenties the next morning.
"With a change of anglers in surrounding pegs and a change in weather, the next 24 hours seemed to go quiet, even with fish clearly still evident in the area.
"Going into the final evening, the fish seemed to switch back on and I landed another four in the space of 24 hours, including three 30-pounders! Amongst them was a PB common of 31lb 10oz, as well as a brace of thirties on the last morning with the rods lying on the floor!
I finished the trip with a grand total of 15 fish: five thirties, including a new lake record and two personal bests, and 10 twenties."