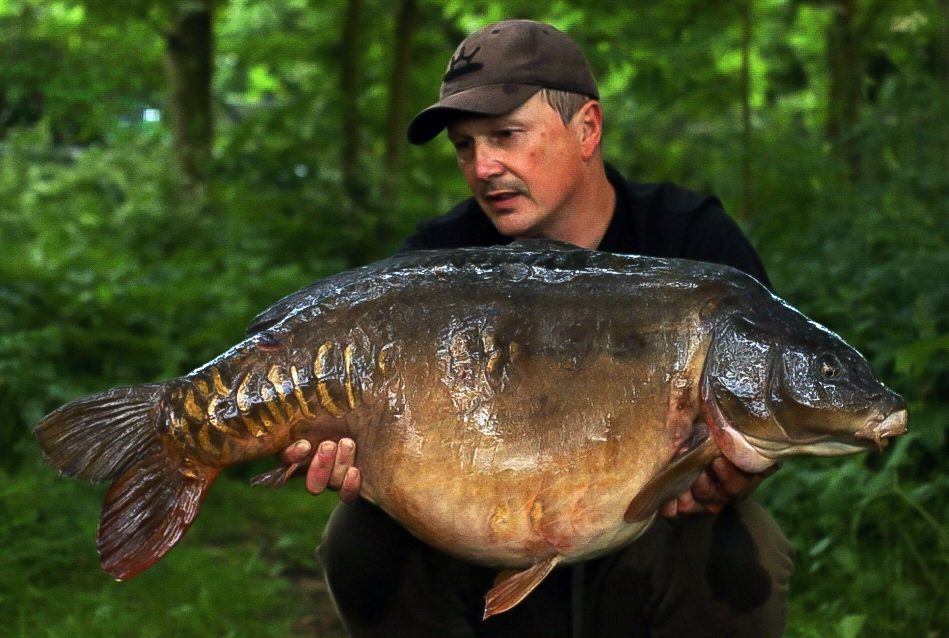 PB TUMBLES AS STEVE BAGS 48LB MONKS MIRROR!
Posted: 27th May 2022
Author: Team DNA
Fresh from a memorable 29-fish haul on Cretelakes in France, Steve Haylett continued his incredible run of form by bagging himself a new personal best from his syndicate water, Monks Pit in Cambridgeshire.
Having banked two fifties to 58lb 8oz in France, Steve was keen to get some more big-fish action back in the UK, and Monks certainly obliged for him, throwing up the coveted Charlie's Mate at 48lb, toppling Steve's UK PB.
Steve told us: "On arrival, there really wasn't too much to go on, so I pitched up in the Swamp for the night and kept an eye on the lake knowing the changing weather was due in.
"Early the next morning I banked a lovely dark 25lb common, but it was evident the majority of the fish had moved down the other end of lake, so I was off! I moved in behind Rob in a swim called Little Point. I found three spots amongst the kelp weed and introduced 10 Spombs of various DNA pellets, 12mm and 15mm Secret 7 boilies, Secret 7 crumb, all soaked in matching S7 Liquid Food. It's a simple combination that just seems to work so well! I changed from a PB pop-up that caught me the 25lb common and moved on to a slip-D rig with an Secret 7 Corker wafter, which in France just seemed to get the bigger fish – it wasn't to disappoint!
"The first night in the new swim was pretty much sleepless, producing three fish from four bites! Then on 5am my right-hander ripped off on a tight clutch. Luckily, no boat action was required, and after a 10-minute fight, little did I know, my new PB was in the net, a mirror called Charlie's Mate at 48lb. Commence the dancing!
"Going into my last night, I decided to bait up but not fish until around 5pm. More anglers had turned up and I was worried about pressure. A good night's sleep was had, then an early-morning bite produced a small carp. Then on packing up I had a savage take but was cut off almost immediately.
"On reflection, a move definitely paid off. I had steady action throughout and a new PB! I'll take that any day of the week!"