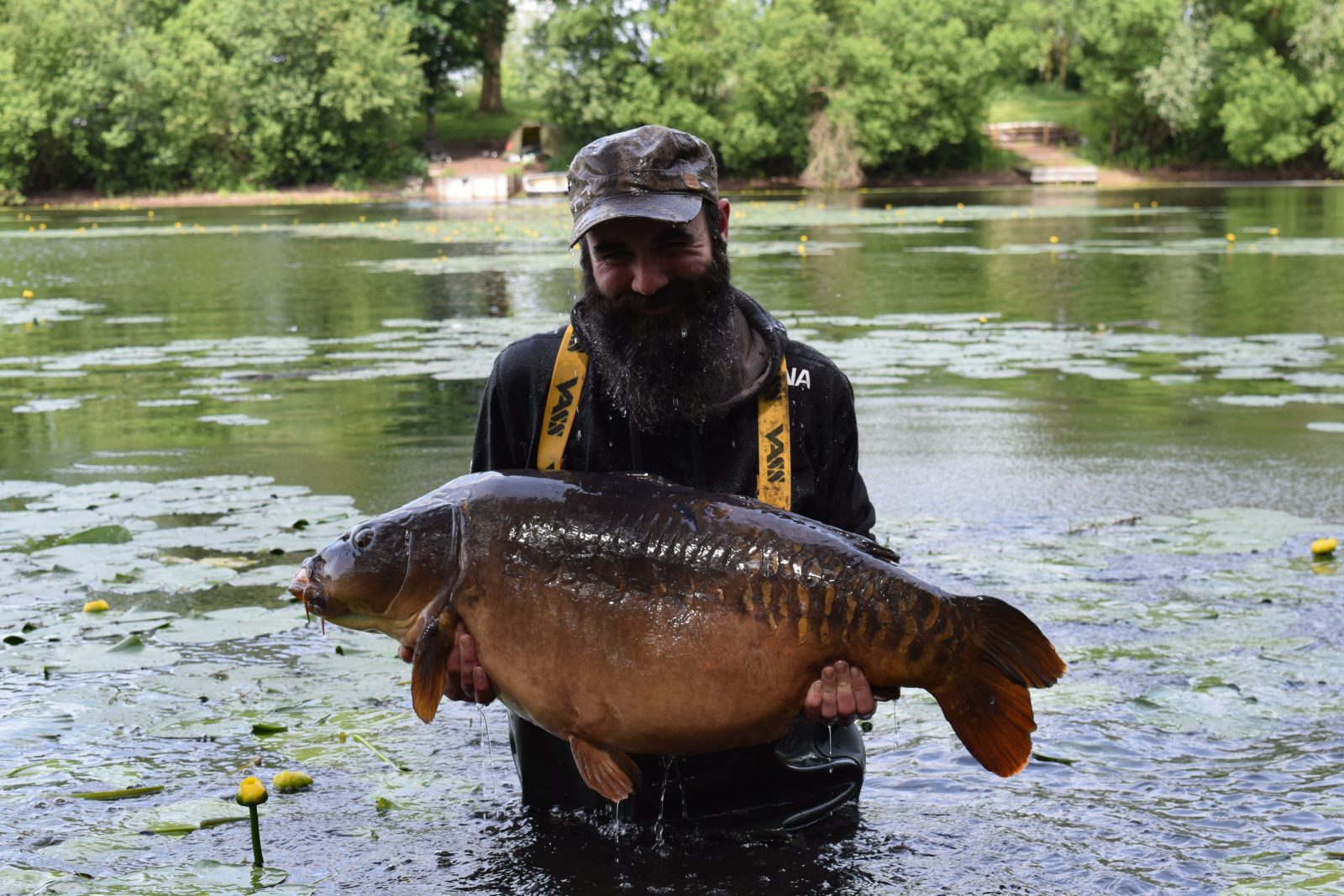 The Cameron Holvey interview
Posted: 10th August 2018
Author: Paul Mallinson
When I was considering whom out of the considerable list of accomplished anglers available to interview for the DNA website, one guy immediately sprung to mind, Cameron Holvey. I didn't know much about Cam; indeed, I'd never met him. Over the past couple of years, though, I'd seen his catch reports and pictures coming in from South Yorkshire circuit water, Tyram Hall. It was impossible not to be impressed by the quality of the fish that had regularly graced his net: true northern history fish in an age where they are getting increasingly difficult to find.

Paul Mallinson: Thanks for agreeing to do an interview for the DNA website. I'm looking forward to hearing all about your time on Tyram. I know you've caught some cracking carp from there. First of all, am I right in thinking Tyram was the first syndicate you joined after taking up carp fishing? It's a highly pressured lake with some very wily old carp, so you definitely threw yourself in at the deep end.
Cameron Holvey:  Yeah, that's right, mate; Tyram has been my first syndicate, and at the time of joining it probably was a bit of a big step to make from the day-ticket waters I'd been fishing. It was local for one thing, though, meaning I'd be able to get down often, and I didn't start off too badly either, catching a couple early doors. That gave me the confidence boost I needed to know I wasn't in completely over my head. I'd been visiting the lake quite a bit prior to joining as well, as a few of my mates had been angling down there. That helped as well. I felt I knew the ropes a little before I started.

Paul: You knew what you were getting yourself into if you had mates already on there, and fishing around good anglers, I've found, rubs off on you, so long as you take the time to watch and learn from them. It's good to take on a proper challenge as well. The fish in Tyram are certainly that; they've been around a long time and have seen everything twice over! So, you went on to the syndicate with S7 and things went pretty well from the off, with some good fish falling to your rods?
Cam: It's a great syndicate, but without doubt I've had a steep learning curve. To some extent I knew what I was getting into; I knew the majority of the stock, the pressure the lake saw and the stamp of anglers, that kind of thing. Every season sees changes, though, and the amount of weed was an eye-opener at first. I started using the S7 in the August and the fish were on the bank from the off. The first fish to fall was a real woodcarving of a common, and at 28lb-plus, it was a new PB common for me. I think I am right in saying it was the biggest common in the lake at that time as well. I was over the moon with that, and from August until November that year I caught fish regularly. Don't get me wrong, there were times when it was a bit of a struggle; nearly everyone goes through those periods, though.
I treated that first year as a learning exercise with no pressure to catch, but in the end, I managed around 30 fish in total. Inevitably, one or two of the better ones came along as well, which I hadn't particularly anticipated happening. The highlights were fish like Butthead, which was another PB at 33lb, Arthur, the Pretty Lin and the Half Lin. The fish in there just seemed to love the S7 and that played a big part in keeping fish coming my way.
Paul: That's some impressive angling for your first year on the lake and your first syndicate. A couple of thirties and a PB common is a fantastic result.
Cam: It was a good year looking back. The Butthead session was one to remember. I'd set up in peg nine, but things had been a bit quiet. Peg eight sits just behind nine, and as it was free and things were pretty quiet in eight, I kept nipping over to have a look. I noticed some fish moving in close, no more than a rod-length out; it was a ghost common that gave the game away. I quickly set up a 7ft stalking rod, taking just the bare essentials with me. The fish had drifted off when I arrived, so I got an S7 snowman on the spot, with a Wraysberry pop-up balancing it. A quick handful of S7 over the top and I was good to go. I just had to hope the fish would come back. Within 10 minutes they arrived, and a further five minutes later the clutch was roaring away with the same ghost common on the end. It was a good size too at mid-twenties.
I moved into peg nine for the night and went on to have four more fish before I had to leave the following morning. One of the fish was Butthead, as previously mentioned, topping off the session nicely.
Paul: From speaking to you, it seems you don't really tend to sit over large beds of bait, but feed on a more little-and-often basis. Would it be fair to say that? It's something not a lot of carp anglers do. Is that something you brought over from your match-fishing background, feeding smaller amounts and adjusting your feed based on how the session is going and how the fish are reacting?
Cam: Little and often definitely worked for me, and it's something that's worked for me in most of my angling over the years, so that's the approach I naturally brought into my carp fishing. As always with these things, it's a matter of finding the approach that works for you. I was happy fishing for a bite at a time and not overdoing it with the bait. I would still be putting bait in here and there, though – at the end of sessions, for instance – but I never put kilos and kilos in. There were a few lads putting the S7 in, so the carp certainly knew what it was and readily accepted it.
Paul: It's definitely different from how most people seem to fish, and half the time just being different is enough to give you an edge. You must have been confident going into the second year? Was your approach much the same as the previous year?
Cam: Just to carry on with the bait theme, I'd seen lads put lots of bait out and blank, but at the same time there were occasions where big hits of fish would come out over lots of bait, so I knew on the right day fishing over a bit more bait could be the right move, therefore I would say I had an open mind going into the next season and was prepared to fish over more bait when I felt the time was right.
My second season got off to a good start, as my first fish came towards the end of March and was another A-team member. I was fishing peg 16 into some deeper water and all had been quiet. As the sun warmed the upper layers, I changed tack and decided to try my luck fishing some shallower water. Technically it wasn't my water, but the opposite peg was empty, so I took advantage and had a few casts, settling for a spot that's not normally as accessible once the weed is up. I think it was one of, if not the first time I'd tied up a multi rig. From that day onward, the multi, teamed with Milky Malt pop-ups, would start to feature heavily in my fishing. The freshly cast rod had produced a 29-pounder before long, so I decided to pack up and head round to the peg that controlled the shallow water before someone else had the same idea! Straight away another single Milky Malt was being cast to the spot, and before too long away it went with Cluster on the end, another of the good ones, and at 36lb-plus, it was another PB.
Paul: An awesome way to kick your season off, mate, a big old mirror and a new PB as well; you can't ask for much more than that. How did the season progress from that early result?
Cam: That capture definitely spurred me on, giving me real enthusiasm for the rest of the season. From then until May, I spent a lot of time at the lake, and the fishing went really well from there, really. Truth be told, I was at the lake more than I should have been. I had a lot on with buying a house and work, etc., but I was really enjoying my fishing, and with the lake being close to home, I could be there within five minutes. I was spending my time a bit more wisely as well, putting the legwork in to find the fish and watching, learning and taking note of things that were happening. Just by being there and observing when I wasn't fishing, I was still learning all the time.
After having Cluster, I carried on picking up a few more nice fish through the tail end of March, April and into May, with some more nice twenties coming my way. During May I was lucky enough to be there to see one of my mates land Baz. It's always nice to be able to share the buzz of a mate's capture, and seeing Baz on the bank stoked the fire inside me, for sure.
Often I would fish two or three nights and it would only be towards the end of my sessions when things started to click together, catching one or two right at the end of a session when I had been bite-less for the first 36-48 hours. The fishing was going well and I was making every effort and excuse to be at the lake. I had a long session planned, a four- or five-nighter and knew the extra time would mean I'd be able to get amongst them and hopefully have a good hit of fish. With a bit of luck, one of the big girls would come my way.
After four nights I pulled off the lake having had, I think, five fish, with a really lovely 26lb mirror being the pick of the bunch. I had to leave for a family meal, so a mate moved in behind me. I was expecting him to carry on where I had left off and hopefully bag one or two. That evening I got the call to say he'd caught the Big Linear, the one we both most wanted. That's how fishing goes sometimes, but I was over the moon for him.
Paul: If your name's not on them, then it's not on them, but if you can't be the one to catch them, it's certainly best if a mate can. You can enjoy their buzz of the capture a little. It's all part of the journey and the twists and turns of fishing. I know this isn't the end of this particular story, though, and there was a twist in the tale about to unfold.
Cam: I think it was two weeks later when I got the rods back out. The Linear only comes out twice a year at most, so I thought the chances of that one turning up were slim, but there were still plenty of other good fish to go at, so I resolved to get back into it. I walked the lake without seeing too much, so quickly opted for peg eight, as the lake was filling up for the weekend.
Peg eight controls a fair bit of water and I had a few days in front of me, so I made the decision that this was one of those occasions when a good hit of bait could pay off. I reasoned that as the peg I was in controlled a fair bit of water and the lake was about to fill with the weekenders, if I could get a bed of bait out early doors, then as everyone else turned up the fish might get pushed into my water, which would be nice and settled.
The baiting paid off the following day when a mid-twenty common tripped up. I topped the area up with bait and come last light it was like a firework display, with fish rolling and head-and-shouldering over the spot. Just as the last of the light drained from the sky, there was a massive crash over the baited area, undoubtedly from something a lot bigger than the fish I had been seeing. I was happy with my rods, but something niggled at me to recast. I couldn't ignore it in the end and skipped one of the rods in, recasting it over the area before turning in for the night, full of confidence.
In the early hours of the morning, I was woken by a couple of beeps. Flicking my torch on and shining over to the rods, I could see the middle bobbin was pulled up tight. Lifting into it, I could feel it was a heavy fish that was staying deep, using its weight against me. A different sort of fight compared to what I'd had before unfolded, and I knew it had to be a good 'un. The fish kited 50 yards or so, handily bringing it round to the front of the peg. As it came over the net, I caught a glimpse of the back end of the fish and noticed the short stump of a tail. It seemed surreal, as I remember thinking that couldn't be right, as it was clearly the Big Lin. I was in disbelief; even though I knew which fish it was, it just didn't sink in, as it seemed so unlikely. Luckily a mate was free to come out at first light and help with the pictures. I felt every emotion it's possible to feel. That session will stay in my mind forever, as the fish still amazes me when I look back.
I managed to top the session off the following morning with another A-team member as well in the form of the Fat Footballer at just under 30lb. What a weekend that was!
Paul: Those are the sessions we dream of, mate; those ones when everything goes right and it all comes together. The Linear is a lovely old fish, one of the best around. I'm guessing that was the highlight of the season. The following year I believe you had a lot going on, so didn't get the rods out much – is that right?
Cam: It was a dream session, mate, and the buzz was something else. It was just a massive sense of achievement, the feeling of which still lasts to this day when I look back; it was definitely the highlight of the season. Things slowed down a bit after that; I did a few more sessions, but took my foot off the pedal a bit and cracked on with the house, and also had a few weddings and stag weekends to attend as well. Early the following year my other half and I took on a fishing buddy in the form a pup that needed a home. We managed to get out for a couple of nights in April and caught a couple, so the pup, Ruby, could see the ropes, but that was basically it for 2016. There was so much still to do on the house, I really had to dig in and crack on with things.
Paul: I can understand that, mate. Fishing is a pastime for us, after all, and we need to be careful to make sure it doesn't take over at times. When you eventually did get around to getting the rods out properly the following year, did it take you long to get back into the swing of things?

Cam: My first session saw me land a nice two-tone, mid-twenty common within a matter of hours of being back at the lake, followed by an old warrior of a mirror just over 24 hours later, so it was great to be back. It was the same multi rigs and Milky Malt combinations tripping them up as well. Having that confidence in the S7 and Milky Malts, coupled with knowing the lake well, played a big part in hitting the ground running.
Fish continued to come my way, but unfortunately I was at the stage on the lake when repeats were coming thick and fast. Because of that, my thoughts started to turn more and more towards some of the ones I hadn't had. When I'd started on the lake, I'd been happy to get bites, but now the repeats were taking the shine off that a bit. As a result, I decided it was time to try and concentrate on tracking down the ones that had eluded me. Top of that list was Baz!
Paul: That was a result, landing two on your first night back after a year off! You mention Baz there, certainly the king of the pond; was there anything specific you did to try and track Baz or the other remaining big ones down? Did they have a track record to go off, or was it just a case of trying to locate them visually?
Cam: I was turning up to the lake first light and not putting a rig into the water until I was confident I had seen something to go on, something which pointed to bigger fish, which could be hours later. Obviously, it doesn't always work out, but I definitely had Baz fever and knew I would have to be on my toes to stand a chance. The better fish had a habit of turning up in certain areas, weather dependant, and with the lake being clear and having plenty of shallow areas, when the sun came out the fish would quite often give themselves away. It was a case of sitting and watching, trying to spot the bigger ones and watching for big movements in the water that clearly weren't off the smaller fish.
Paul: How did that work out, then? It can be hard to drag yourself away from a situation where you feel confident of a bite, but not the right bite, I guess.
Cam: It's a different mindset and it's not easy to do. We all like to get bites, it's why we go fishing ultimately, but I was determined to put myself in with the best possible chance whenever I could.
After the first few sessions back, the lake quietened right down. I think I went six nights without a fish, which hadn't been the case for a while, but the bait was going in and I had time on my hands this year.
Eventually the run of blanks ended when I managed to bank Cluster again. While the recapture wasn't ideal, my approach had singled out one of the bigger ones, which was positive. The lake was busier than previous years that spring, which made things a little trickier. On my next session, once again I invested more time than I would have previously looking for signs and that definitely helped me single out Arthur along with another mirror, both upper twenties.
Q12. Paul: So, you were starting to put a bit of a run together, and I think I am right in saying we are now heading towards what is effectively the climax of your fishing on Tyram. Can you run us through the events leading up to everything clicking into place?
Cam: I had a steady run of fish then, which is always good, but all the time I was focused on getting an opportunity to slip the big 'un up! A horrible couple of weeks followed that run of fish, though. First of all, Baz came out, which was a bit of a setback, but then Ruby, my dog, had a run-in with a tree root at the lake. That incident resulted in her having her chest stapled, which wasn't nice. On top of that, our other dog, Molly, had to be put to sleep out of the blue. So, a bit of a bad run, all things considered.
Although Baz had been out, it's not uncommon for it to come out a couple of times within a short period of time, so I knew there was still a chance. Again, I spent hours walking and watching, trying to find somewhere to settle before the lake filled up for the weekend.
There wasn't a lot to go off. The fish I did see were around the plateau, but the pegs that fished to it were taken. I opted for peg eight again, still fishing towards the plateau, but off the back of where the fish were. I hoped the pressure would push them over my way.
It was hours before I got the rods sorted. I baited a couple of deeper spots near an island with S7 and another clear area towards the plateau with whole and crumbled Switch, hoping to draw the fish in and get them confidently feeding closer in.
The first 24 hours didn't go my way: although the plan worked with the fish coming towards me, resulting in three bites, they all fell off! Amazingly, the fish were still in the area after all the commotion and they were all over the Switch. It was the first time I'd properly used it and it definitely had an effect on them. Around teatime on the second day I finally managed to get one over the cord after an almighty battle through weedbeds and sets of pads. A low-twenty scaly set me back on the right track; it was one of the best-looking carp in the lake.
I was greeted by the sight of a big orange silhouette doing circuits around the area in front of me the following morning. Casper, the lake's rather large resident ghosty, was the culprit. After observing it for a while, I noticed it was stopping around a particular set of pads, just off the edge of the plateau. It wasn't lost on me that it's not uncommon for Baz and Casper to be together. I made the decision to wind in the middle rod, recasting it on to a clear spot next to the pads Casper had been holding by. The rod was placed back on the buzzer to let the line settle, while I catapulted a few freebies out over the top. With the baiting done, I knelt down to clip the bobbin on, only for the rod to rip off in my hands. The fight was deep and heavy, typical of a big carp. When it eventually rolled into the net, it was clear from the massive frame and part linear scaling what my prize was: it could only be Baz. It was just something else; absolutely blown away, I was. I know you hear that a lot these days, but I was literally in a daze for hours. All the chasing, blanking, lost fish and hard work had all come together. Incredibly. she pulled the scales round to a huge 48lb 8oz.
Q13. Paul: As well as its staggering size, which is off the scale for the North, Baz is such a nice fish, a lovely scaly one, very similar to her original Yateley namesake. Now, I know a lot of people would have been tempted to pack up and head home after such a result, but you stopped on for another night and went on to round off your session in pretty spectacular style.
Cam: I stopped on for another night in order to let it all sink in and have a bit of a celebration really. The rods were out, but the emphasis was definitely on celebrating, rather than fishing. My mate said to me, jokingly, that I should stop and catch Casper, but I really wasn't thinking about that.
The celebrations went on well into the early hours of the morning, and when I eventually surfaced I could see that Casper was still about. Not wanting to waste an opportunity, however slim, I rebaited a rod and cast it to a spot in the general area where she was milling around. Half an hour or so later, she drifted over the bait, showing no particular interest in it. My mate was next door, so I went to sit with him for a while. From his swim, I could still see Casper drifting back over the spot. This time, though, she had stopped. I said to my mate, 'She's gonna have that.' Almost instantly, there was a flash of orange as she twisted and turned in the water, trying to eject the rig. A short battle ensued and before I knew it I had my second forty in the space of 24 hours sitting at the bottom of my landing net.
Paul: An incredible result, mate. There aren't many folks in the region that have had one forty, never mind two in a session. I've enjoyed hearing about your exploits on Tyram and look forward to hearing more from you in the future. Keep on catching them.