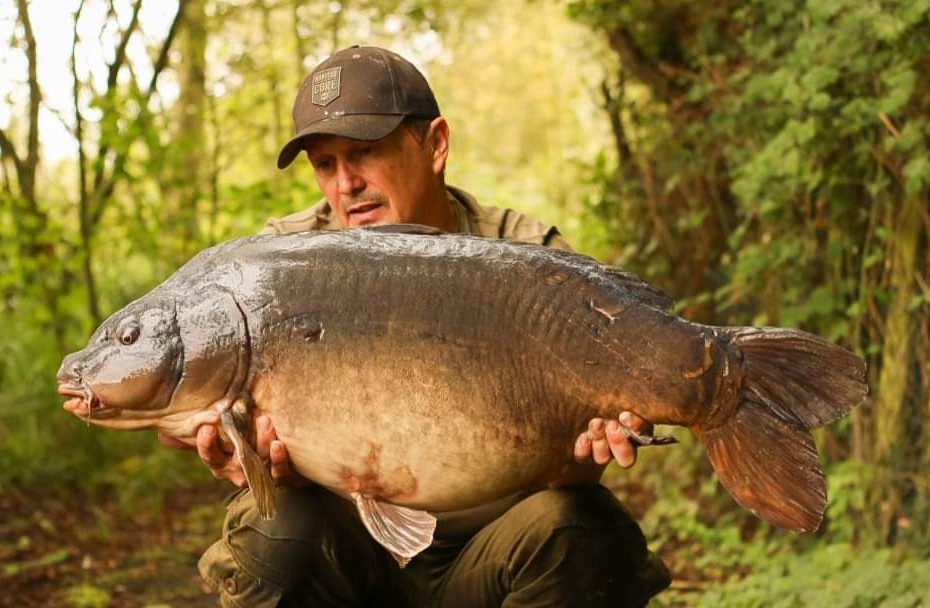 THREE MONKS PIT FORTIES ON THE SPIN! 
Posted: 5th September 2023
Author: Team DNA
Steve Haylett made it three 40-pounders from as many trips to the Monks Pit syndicate when he rounded off a 10-fish catch on the Cambridgeshire venue with a cracking 48lb mirror.
Steve is a massive lover of using a mixture of liquids in his baiting approach and couldn't have more confidence in his method, which we can understand given the run he's currently on!
Steve said: "I got set up in the middle of the lake when arriving late afternoon, as fish were showing between here and Little Point. Three rods were fished over 10 Spombs each and topped up regularly. I can't emphasise just how much a combination of liquids helps catch you fish! The liquids in question for me were
Hemp Oil
,
Secret 7 Liquid Food
,
Molasses
and
Calanus Hydro
. All these were added to chopped, crumbed and mixed-sized
Secret 7 boilies
, matching
S7 pellets
and
Crayfish Maxi Mix pellets
."
Despite kicking off with a mid-double, Steve ended up moving swims a couple of times before he was finally happy.
He continued: "With three rods out on
PB wafters
and six Spombs of bait over the top, two hours passed before I was away with a 24lb mirror, followed soon after by another mirror of 32lb 2oz.
"Evening came and went, but at first light the one rod I had switched to a zig was off with a beautiful bonus 27lb scaly, telling me the fish were clearly moving about.
"After another quiet evening, I did the rods for the day and then had a crazy 50 minutes, with one rod doing five bites! It was carnage! I had a common at just over 30lb and the rest mirrors, two doubles and two twenties. Wow!
"The next morning I redid the rod that had done me the five bites and two hours before packing away it rattled off and this time I knew it was something decent. It ran me ragged for 25 minutes before gracing my net. I went to the next swim to get John, a fellow DNA user, and he helped me lift it out of the water and weigh it. It was a 48lb mirror! That's three forties for my last three trips. Sometimes things just align, I guess."