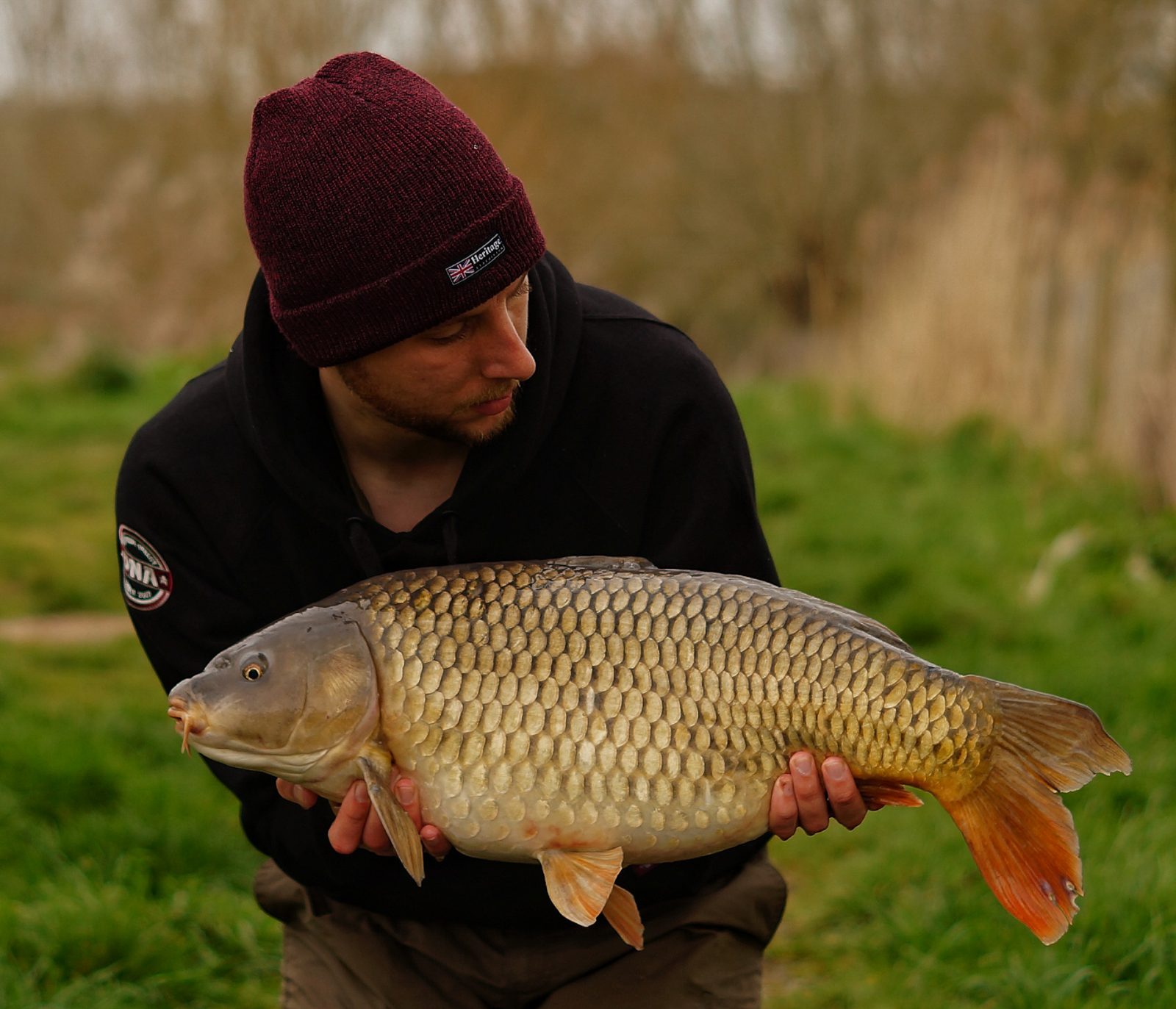 Unplanned Rewards
Posted: 10th April 2019
Author: Ben Fenner
As the title of this piece may suggest, it was not on my agenda to head out and go fishing. I had found myself at a loose end after finishing a few things I needed to do at home on my day off and the weather looked perfect for a few bites – very overcast and quite mild – so I knew the fish would be more active.
I bundled my gear into the car, taking the absolute minimum of kit just in case I needed to up sticks and move on the fish, and I headed down to a local day-ticket venue where I knew I might be able to bank one or two. When I got there the lake was pretty much stitched up with other anglers, but one side of the bank, which on the end of a north-facing wind, was clear. Not much had been coming out apart from the odd fish here and there. Even though it was only a few fish, it was nice to know they were moving around and possibly looking for some food.
I decided to take a walk around the complex to see if I could see any movement or signs of fish, but this was proving difficult due to the ripple on the water. I decided to sit on the empty bank and just wait for any showing fish. It can be easy to give into temptation of just getting the gear out and flicking a few rods out, but it really is paramount to get your location right, even more so at this time of year. Although I was limited on time, I had to be certain I was in the right area.
My hunch soon paid off with a fish showing itself around two rod-lengths from the bank I was on. Then another two shows just past it. Three shows within 15 minutes or so was enough for me to walk back to the car, grab my gear and get set up in that swim.
I was just about to get my first rod out when yet another fish showed around the same area! I decided to rig up a 12mm yellow PB pop-up with a small bag of Crayfish Mini Mix pellets. I put the rod down on the floor whilst I set up the landing net, only to turn around and see line being pulled from the spool! After a dogged battle and being snagged up underwater, a dumpy-looking common came free and slid straight into the waiting landing net. I unclipped the fish in the net and left it safely recovering whilst getting the alarms sorted, before rebaiting with a fresh PB pop-up and recasting to the same area.
After taking a few pictures and treating the hook hold, I slipped it back so I could get the next rod out. On this rod I opted to use a 15mm SLK hookbait that had been soaking for months in SLK Liquid Food and then dusted with Krill Meal. This had created a nice layered attraction around the bait. It was then tipped with a 12mm SLK Corker pop-up snowman-style.
Most of my fishing nowadays features a PVA bag of Crayfish Mini Mix on the hook. They just have such a unique and effective pulling power! After all, what carp doesn't love pellets?
I just sitting down to steam a few rigs when the second rod was away, this time with a gnarly double mirror on the end. Unfortunately, it was a recapture from a previous session, so I unhooked it in the net and let it go. It all went quiet with no fish activity from what I could see around the lake for roughly two hours. I did contemplate a move, but it just felt right to stay put, and sure enough, a short while after, another rod was away. It had given me a very peculiar bite indication, so I expected it was a bream, but it turned out to be an immaculate mid-double mirror.
Whilst taking shots of this fish, my other rod was away, so I put the fish into the retainer sling and safely left it in the margins so I could attend to the other rod! After a short fight, a scraper-double common was landed and quickly released, before I got both rods back out on the spots so I could take photos of the fish in the sling.
Before the fish had barely swam free of the sling, yet another take materialised! This one felt a lot better than the previous two fish and I was extremely surprised when another mirror popped up in front of the net, as this lake is largely dominated by commons.
It went a little quiet after that last fish. As the evening was drawing in, I could feel the temperature starting to drop, and by this time some of the anglers had packed up and left. I was determined to have one last fish. I started to pack all my gear down, leaving the rods on the floor in the hope of nicking one last bite. That bite finally came on the last rod that was lying on the deck! After a rather longer than expected battle, a decent-sized mirror popped up from the depths of the lake and swam straight into the net. At low twenties, it was the biggest of the session and the perfect way to round off a most enjoyable, if somewhat unplanned, session.