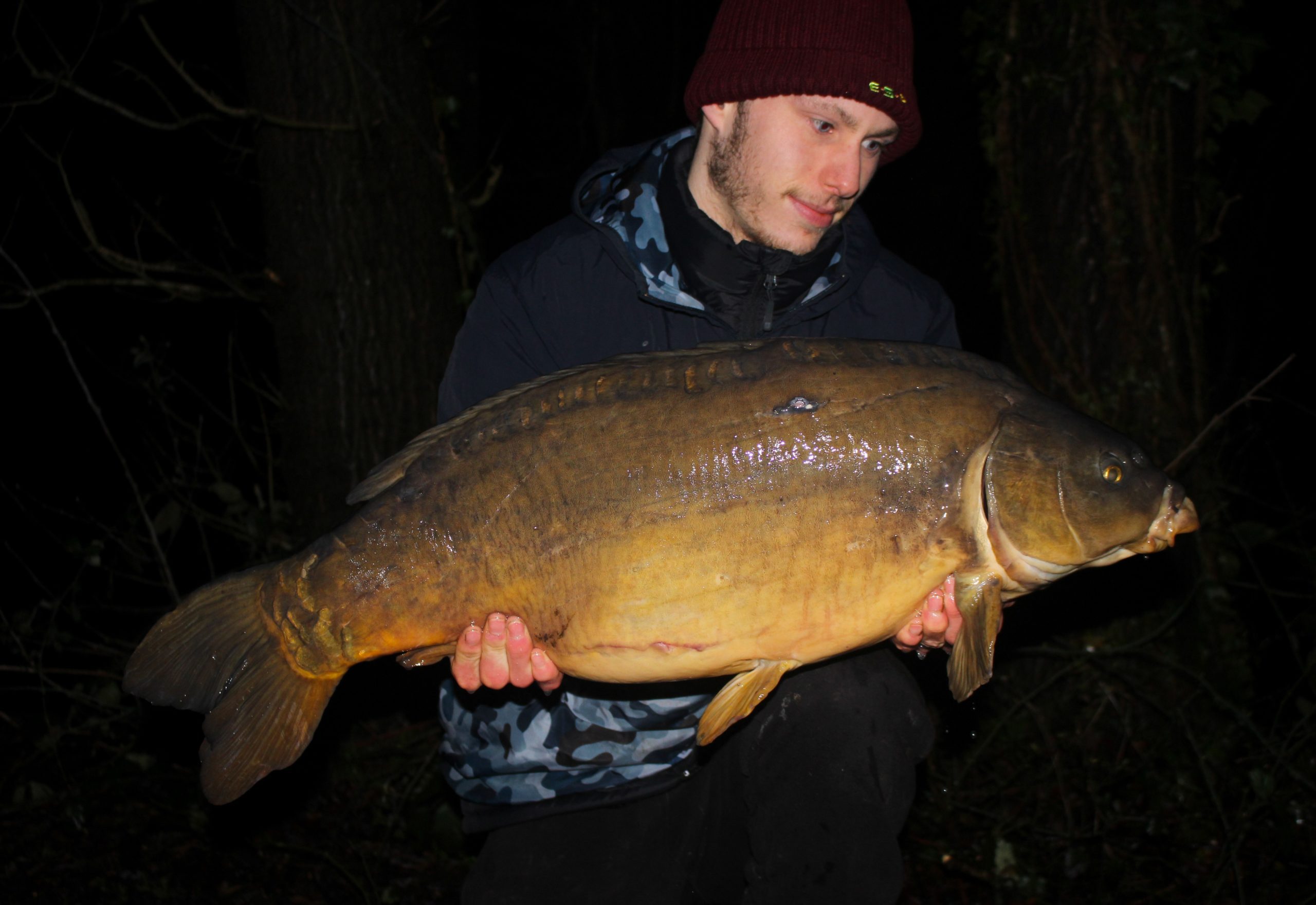 LIAM'S YATELEY ORIGINAL MORE THAN TWICE HIS AGE!
Posted: 15th March 2022
Author: Team DNA
Despite his relatively young age,
Liam Silverthorne
's capture of a Yateley original by the name Big Twin could not have been met with greater maturity or respect.
Liam takes up the story of his slice of Yateley history: "With my friend having recently passed his driving test, and both of us having a couple days at our disposal, we decided to make the journey from the Isle of Wight up to Yateley. After a short boat journey and an easy drive up the M3, we arrived at the Yateley complex around mid-day.
"We decided to spend a few hours walking round the lakes on the complex looking for signs of fish. Unfortunately, after many laps we hadn't seen any signs of fish to go on. It was a case of best guess, so we decided to set up in an area that gave us a good view of the lake in the hope we would be able to see any fish that did show the following morning.
"The first night passed uneventfully and a cold north-westerly wind began to blow into us. We waited out the possible morning bite time before winding in and going for a few laps of the lake, but like the day before, there were no obvious signs to go on. During our walk, however, we found a more sheltered area of the lake that felt considerably warmer than where we had set up. We decided to make a judgment call based on the weather and moved to this area of the lake. The swim I chose in this area was one that had been kind to me before and I was aware of a few spots in the swim. I opted to fish both rods on two separate areas spread apart, both areas being soft clay on the back of some gravel.
"The bailiff paid us a visit around midday and informed us the lake had only done a handful of fish over the past few months, so with this in mind, I decided I would go in with a mix of dead maggots, as well as a few handfuls of whole and crumbed-up 8mm S7 boilies, all coated in S7 Liquid Food and Betastim. Rigs-wise, I opted for eight-inch Slip-D rigs baited with white Secret 7 Half Tones wafters tipped with 20 live red maggots and placed one Spomb of the mix over each rod, just enough for a mouthful. A golf-ball-sized mesh bag of maggots was also attached to the hook before placing the rigs.
"After getting the rods out, I felt confident, even though we had not seen anything and the odds were against us, not being local and not knowing the fish's current behaviour. I knew the tactics I had gone in with had worked well for me before and felt it was just a case of whether the fish would be willing to have a feed. Just like the first night, it was another quiet night in the new area, but after first light, my friend a few swims down had a few fish begin to show over him. I remained confident, although I hadn't seen anything in front of me. I had to sit tight and hope the fish would move towards me, with the most pressure being down the other end of the lake. Knowing it hadn't done a fish for a few weeks, I surmised that if they were showing after their winter slumber, they would eventually have to feed to replace the lost energy.
"Our final night was fast approaching, so I made the decision to recast just before dark to ensure the rigs were well presented on the off chance I was lucky enough for one of these much-sought-after Yateley carp to graze on my spots. Not long after positioning my rods, I received a liner on my right-hand rod, convincing me the fish had indeed moved towards my area. Despite the anticipation, I dozed off shortly after dark knowing that we would have to be pack up early for the drive home. All I could do was hope that all the hard work and effort would be rewarded in the few short hours left.
"At around 2am, I received a slow and steady take. If I'm honest, I was in a bit of disbelief when I heard the alarm sound – but all had finally come good! A short but spirited fight ensued, with the fish plodding around under the rod tip and making the odd attempt for the trees in my near-side margin. After getting the fish in the net, I sat on my bed taking in what had just happened whilst waiting for my mate to come down and do the pictures for me. As we got the camera equipment ready, I had mentioned to my mate how relieved I was, as all had come good! At this point we just didn't know what could be sitting there waiting for its pictures; it could be an original for all we knew!
"Lo and behold, as I went to tuck the carp's pectoral fins against its body before lifting it out, I noticed the tell-tale sign of a Yateley original with withered old scalloped fins! The thought of what I had just landed blew me away. Having always been fascinated in the history of Yateley and the likes of Heather, Dustbin and Arthur growing up as a kid, the achievement could not be overstated with so few historic originals left. I had got my slice of Yateley history! An ancient carp of well over 50 years old and a moment I wasn't sure would ever happen. These fish are getting old and sadly nothing lasts forever. The Big Twin, as it is known, turned the dial round to 24lb 6oz, but size was completely irrelevant; it was a privilege to hold such an old and historic fish.
"As my friend snapped away with the camera, I was in complete awe; the moment was over too soon. I was anxious to return the stunning creature to its home and she was placed reverently back into the water to hopefully make another angler very happy. A true piece of Yateley history and an absolute privilege to be fortunate enough to have made its acquaintance. Needless to say, I was, and am, one very happy angler!"